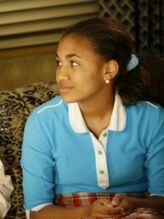 Tasha [Paige Hurd] is a girl that lives next to Chris in the second season after Keisha moves away. She's the only girl that doesn't hate Chris and even kissed him on New Year's Eve 1986. She lives with her grandmother, Louise and her mother, Peaches was incarcerated, but released from jail. She once dated Chris in season 4, but broke up with him. She had a boyfriend named Robert.
Ad blocker interference detected!
Wikia is a free-to-use site that makes money from advertising. We have a modified experience for viewers using ad blockers

Wikia is not accessible if you've made further modifications. Remove the custom ad blocker rule(s) and the page will load as expected.