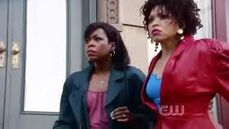 Peaches [Tisha Campbell-Martin] is Tasha's mother who was in jail, but then released in the 4th season. She's loud, eccentric, and ignorant. She befriends Rochelle after first meeting her. She started dating Malvo in the later 4th season episodes. She's also good with computers, having learned from jail.
Ad blocker interference detected!
Wikia is a free-to-use site that makes money from advertising. We have a modified experience for viewers using ad blockers

Wikia is not accessible if you've made further modifications. Remove the custom ad blocker rule(s) and the page will load as expected.