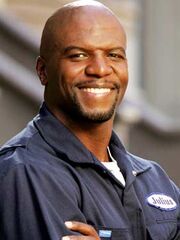 Julius [Terry Crews] is the father of Chris, Tonya, & Drew, and the husband of Rochelle. He is worrisome, frugal, cheap, and sometimes cranky. Julius works two jobs: as a newspaper delivery man and a security guard. He is always worried about money and can add up the exact value of items the family buys. He can be tough on his sons, but spoils Tonya. His favorite television show is "The Young and the Restless." Usually Julius says:
"That's [insert amount of money] worth of [insert item being used]." [Example: "That's 49 cent of spilt milk drippin' all over the table. Somebody gon' drink this milk!"]. He has three brothers: Pete, Louis [Wayne Brady], who is very successful and highly skilled, and Ryan [Tony Rock], who always talks Julius into lending money for his shady business ventures. His nicknames are "Herc" [from his co-workers] and "Big Man" [from Rochelle's brother, Michael]. He once worked as a cab driver to earn extra money.
Ad blocker interference detected!
Wikia is a free-to-use site that makes money from advertising. We have a modified experience for viewers using ad blockers

Wikia is not accessible if you've made further modifications. Remove the custom ad blocker rule(s) and the page will load as expected.