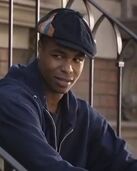 Jerome [Kevontay Jackson] is an older teenager in Chris' neighborhood who takes money from kids by saying, "Lemme hold a dollar." He calls Chris "little dude from across the street" and usually takes money from him. He usually gets arrested and was once caught trying to break into Chris' family's apartment with a credit card.
Ad blocker interference detected!
Wikia is a free-to-use site that makes money from advertising. We have a modified experience for viewers using ad blockers

Wikia is not accessible if you've made further modifications. Remove the custom ad blocker rule(s) and the page will load as expected.