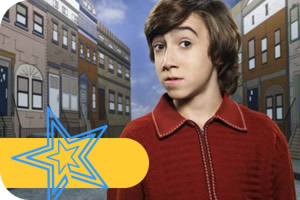 Gregory "Greg" Wuliger [Vincent Martella] is Chris' best friend and the only white kid at Corleone Junior High that didn't hate Chris. Greg was born on November 25,1971. He's just as unpopular as Chris and gets picked on too. Chris comes to Greg for advice, but usually Greg is not so good at coming up with solutions. He is an only child and lives with his father, Art Wuliger. Greg is of Italian descent and is a good student. His mother ran off with his uncle and it's implied that she was also incarcerated.
When Greg graduated from Corleone, he got accepted into the Bronx Academy of Science for high school. Chris tried to get accepted into the school too, but it didn't work out. In the 4th season, while at the Bronx Academy, Greg developed somewhat of a "tough guy" image which eventually led to him getting kicked out of the Bronx Academy and he ended up at Tattaglia High School with Chris. At first Greg had a tough transition at Tattaglia, but he eased into it. Greg is also picked on by Joey Caruso [the school bully], especially when Chris isn't around. He also tends to run away when Chris gets in trouble.
Ad blocker interference detected!
Wikia is a free-to-use site that makes money from advertising. We have a modified experience for viewers using ad blockers

Wikia is not accessible if you've made further modifications. Remove the custom ad blocker rule(s) and the page will load as expected.