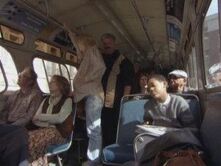 Everybody Hates the Pilot
Original Airdate: September 22, 2005
Production Code: 101
Episode #1
==================================================================================================
Edit
Summary:
Chris and his family move to Bed-Stuy and Chris attends a predominantly white school, Corleone Junior High, where he meets his new friend, Greg and ends up in the crosshairs of the school bully, Joey Caruso.
=============================================================
Edit
Main Cast:
Terry Crews: Julius
Tichina Arnold: Rochelle
Tequan Richmond: Drew
Imani Hakim: Tonya
Vincent Martella: Greg Wuliger
Tyler James Williams: Chris
Chris Rock: The Narrator (himself)
Also Starring:
Jude Ciccolella: Dr. Raymond
John Capodice: Bus Driver
Travis T. Flory: Joey Caruso
Judy Krause: Bus Passenger
Steve Paymer: Old Principal
Aree Davis: Keisha Ridenhour
Marc De'Antone: Actor\Mobster\on NYC Bus (uncredited)
Jake Galasso: Old Cop #1 (uncredited)
Dannon Green: Mr. Corliss (uncredited)
Ad blocker interference detected!
Wikia is a free-to-use site that makes money from advertising. We have a modified experience for viewers using ad blockers

Wikia is not accessible if you've made further modifications. Remove the custom ad blocker rule(s) and the page will load as expected.