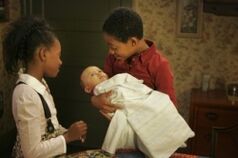 Everybody Hates the Babysitter
Original Airdate: November 3, 2005
Episode #7
---
Summary:
When Julius and Rochelle decide to have a "date night," they hire a babysitter to watch the kids, but when she keeps leaving to take care of personal business, Chris is forced to cover for her. Meanwhile, Julius and Rochelle's romantic night out hits a few bumps when the restaurant doesn't accept their coupon and then the place gets robbed.
---
Main Cast:
Terry Crews: Julius
Tichina Arnold: Rochelle
Tequan Richmond: Drew
Imani Hakim: Tonya
Vincent Martella: Greg Wuliger [credited, but not featured in the episode]
Tyler James Williams: Chris
Chris Rock: Narrator (himself)
Also Starring:
Kelvin Brown: Robber #2
Erica Hubbard: Yvette
Elijah Kelley: Guy
Ted Lyde: Manager
Alysia Joy Powell: Cashier
Sean Rector: Robber #1
Mario Sarpong: Mario
Sam Sarpong: Marlon
Keesha Sharp: Sheila Ridenhour
Susan Slome: Meter Maid
Bee-Be Smith: Mrs. Sanders
Ad blocker interference detected!
Wikia is a free-to-use site that makes money from advertising. We have a modified experience for viewers using ad blockers

Wikia is not accessible if you've made further modifications. Remove the custom ad blocker rule(s) and the page will load as expected.