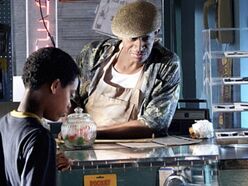 Everybody Hates a Part-Time Job
Original Airdate: January 19, 2006
Episode #12
======================================================================
Edit
Summary:
In order to get a new leather jacket, Chris goes to work with Julius. When Drew and Tonya's school is shut down because of lead paint poisoning, the two play a game of "I Dare You" which gets out of hand when Tonya ends up in the emergency room.
===================================================================================
Edit
Main Cast
Terry Crews: Julius
Tichina Arnold: Rochelle
Tequan Richmond: Drew
Imani Hakim: Tonya
Vincent Martella: Greg Wuliger
Tyler James Williams: Chris
Chris Rock: Narrator (himself)
Also Starring
Logan Brammer: Son
Aree Davis: Keisha Ridenhour
Joe Moscaritolo: Barber
John C. Moskoff: Doctor
Lauren Patrice Nadler: Nurse
Myzel Robinson: Fat Mike
Steve Seagren: Foreman
Duane R. Shepard Sr: Grocer
Charles Walker: Shopkeeper
Indira G. Wilson: Admittance Clerk
David Grant Wright: Pete
Shelby Young: Jennifer
Melanie Comarcho: Woman (uncredited)
Marc D'Antone: New York Paper Stand Clerk (uncredited)
Ad blocker interference detected!
Wikia is a free-to-use site that makes money from advertising. We have a modified experience for viewers using ad blockers

Wikia is not accessible if you've made further modifications. Remove the custom ad blocker rule(s) and the page will load as expected.