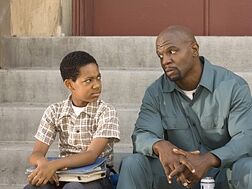 Everybody Hates Keisha
Original Airdate: September 29, 2005
Episode #2
=============================================================
Edit
Summary:
Chris has a crush on Keisha, the girl next door and when Rochelle asks Keisha to help Drew with his math, Chris makes his move to impress her, but is heartbroken when he catches Drew kissing Keisha. Julius finds himself in an uncomfortable position when he suddenly becomes attracted to Keisha's mom, Sheila. Also, when the school principal orders Caruso to stay away from Chris, Greg sticks close to him.
==================================================================
Edit
Main Cast
Terry Crews: Julius
Tichina Arnold: Rochelle
Tequan Richmond: Drew
Imani Hakim: Tonya
Vincent Martella: Greg Wuliger
Tyler James Williams: Chris
Chris Rock: The Narrator (himself)
Also Starring:
Jude Ciccolella: Dr. Raymond
Keesha Sharp: Sheila Ridenhour
Travis T. Flory: Joey Caruso
Aree Davis: Keisha Ridenhour
Vivian Smallwood: Little Old Lady
Shon Little: Uniform Cop
PJ Marino: Detective Marino
Angela Sargeant: Middle-Aged Woman
Alex A. Brown: Driver
Caroline A. Rice: Woman
Dierdre Holder: Woman #2
Aydiee Vaughn: Woman #3
Ad blocker interference detected!
Wikia is a free-to-use site that makes money from advertising. We have a modified experience for viewers using ad blockers

Wikia is not accessible if you've made further modifications. Remove the custom ad blocker rule(s) and the page will load as expected.