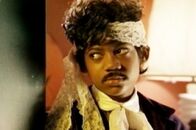 Everybody Hates Halloween

Original Airdate: October 27, 2005

Episode #6
==========================================================================
Edit
Summary:
Chris' plans to attend his neighbor Lisa's big Halloween party are threatened when his mother Rochelle makes him take his younger brother and sister trick-or-treating. Meanwhile, Chris and Greg attempt to dodge holiday pranksters armed with rotten eggs at school. Later, Rochelle objects when cost-conscious Julius wants to give trick-or-treaters the generic candy brands that he bought.
================================================================================
Edit
Main Cast
Terry Crews: Julius
Tichina Arnold: Rochelle
Tequan Richmond: Drew
Imani Hakim: Tonya
Vincent Martella: Greg Wuliger
Tyler James Williams: Chris
Chris Rock: Narrator (himself)
Also Starring
Brittany Belt: Female Student
Eric Bivens-Bush: Neighbor
Alex Brown: Earl Shabazz
Willis Burks II: Old Guy
Jude Ciccolella: Dr. Raymond
Rose Colasanti: Teacher
Aree Davis: Keisha Ridenhour
Antonio Fargas: Mr. Harris\Sweet Tooth
Fatso-Fasano: DJ
Travis T. Flory: Caruso
Blake Hightower: Kid
Kevontay Jackson: Jerome
Stephanie Kinch: Scared Teacher
Michael Kurtz: Cop
Jacqueline Mazarella: Teacher
Jazz Raycole: Lisa
Keesha Sharp: Sheila Ridenhour
Ernest Thomas: Radical Man
Pam Trotter: Heavyset Woman
Bob Tyus: Man on Street
Dabier: Kid #2 (uncredited)
Carey Embry: Flamboyant Man #1 (uncredited)
Carole Goldman: Sophie (uncredited)
Julanne Chidi Hill: Woman #1 (uncredited)
Chavon James: Kissing Couple (uncredited)
Owen Smith: Wanted Man (uncredited)
George Weiss Vando: Flamboyant Man #2 (uncredited)
Aydiee Vaughn: Customer (uncredited)
Wanda Welch: Woman (uncredited)
Ad blocker interference detected!
Wikia is a free-to-use site that makes money from advertising. We have a modified experience for viewers using ad blockers

Wikia is not accessible if you've made further modifications. Remove the custom ad blocker rule(s) and the page will load as expected.