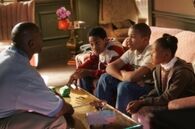 Everybody Hates Fat Mike
Original Airdate: October 20, 2005
Episode #5
==========================================================================
Edit
Summary:
Despite his parents' warnings, Chris lends his bike to a neighborhood kid, Fat Mike (who Chris befriends) who ends up disappearing with it; While Julius is on strike, he proves to be a better housekeeper than Rochelle which makes her very angry.
==================================================================================
Edit
Main Cast
Terry Crews: Julius
Tichina Arnold: Rochelle
Tequan Richmond: Drew
Imani Hakim: Tonya
Vincent Martella: Greg Wuliger [credited, but doesn't appear in this episode]
Tyler James Williams: Chris
Chris Rock: The Narrator (himself)
Also Starring
Michael Brownlee: Newscaster #1
Johnny Erasme: Thug #1
Hilary Hacker: Interviewer
Kiyoko M. Hairston: Woman with Rollers
Melvin Jackson Jr. : Thug #3
Kevontay Jackson: Jerome
Jill Kirsh: Angry Woman
Billy Mayo: Mr. Jenkins
Bobby McGee: Neighbor #1
Myzel Robinson: Fat Mike
Shay Roundtree: Thug #4
Kem Saunders: Neighbor #2
Richard Sellers: White Mike
Owen Smith: Masked Gunman
George Weiss Vando: Man in Drag
Ali LeRoi: Warning Announcer Voice [uncredited]
Ad blocker interference detected!
Wikia is a free-to-use site that makes money from advertising. We have a modified experience for viewers using ad blockers

Wikia is not accessible if you've made further modifications. Remove the custom ad blocker rule(s) and the page will load as expected.