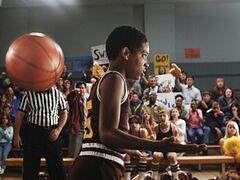 Everybody Hates Basketball
Original Airdate: October 6, 2005
Episode #3
==================================================================
Edit
Summary:
The school basketball coach recruits Chris for the basketball team, but there's one problem: he doesn't know how to play. But a bad grade on a pop quiz could kick him off the team. Meanwhile, Rochelle has her suspicions about a new tenant in their building.
=============================================================================
Edit
Main Cast:
Terry Crews: Julius
Tichina Arnold: Rochelle
Tequan Richmond: Drew
Imani Hakim: Tonya
Vincent Martella: Greg Wuliger
Tyler James Williams: Chris
Chris Rock: The Narrator (himself)
Also Starring:
Clarence Williams III: Mr. Tate
Travis T. Flory: Joey Caruso
Daniel Samonas: Ernie D.
Shelby Young: Jennifer
Robert Cicchini: Coach Brady
Maria De Bagno: Ms. Martella
Hayden Bromberg: Kid
Annie McKnight: Woman
LaVan Davis: Preacher
Angelique Perrin: Skanky Woman
Kem Saunders: Her Man
Ad blocker interference detected!
Wikia is a free-to-use site that makes money from advertising. We have a modified experience for viewers using ad blockers

Wikia is not accessible if you've made further modifications. Remove the custom ad blocker rule(s) and the page will load as expected.