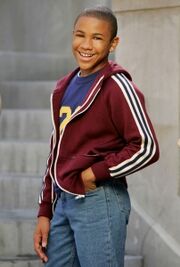 Drew [Tequan Richmond] is the younger brother of Chris, older brother of Tonya, and the second son of Julius and Rochelle. Even though Drew is younger than Chris, he's bigger and taller than him. Drew definitely attracts the attention of all girls, especially women who are way older than him. He can sometimes be mischievous and sometimes tries to get Tonya in trouble. Whenever Chris gets in trouble, Drew reminds how much trouble he's in. He looks up to Chris and wishes he could do the things that Chris can do [such as be in charge when his parents aren't home and three buses to school everyday].
Drew goes through a lot of interests such as being a magician, figuring out a Rubix cube, or trying to be on "That's Incredible" [even though the show was in reruns]. He is very good at karate and loves hockey & basketball. His favorite hockey player is Wayne Gretzky and Julius got him a Wayne Gretzky jersey [even though it's spelled "Wayne Gritsky"]. He usually says, "Wasn't me" when somebody asks who did something. Drew works at Doc's grocery store on the weekdays when Chris is busy with school. He attended Dolomite Elementary School and graduated. Drew even helped Tonya out at her ballet recital and taught her how to do the "moonwalk."
Ad blocker interference detected!
Wikia is a free-to-use site that makes money from advertising. We have a modified experience for viewers using ad blockers

Wikia is not accessible if you've made further modifications. Remove the custom ad blocker rule(s) and the page will load as expected.